Westminster Academy robotics team lobbies at STEM Day
WA's Team 744 demonstrated their latest robot to state senators and representatives at the State Capitol, Tallahassee.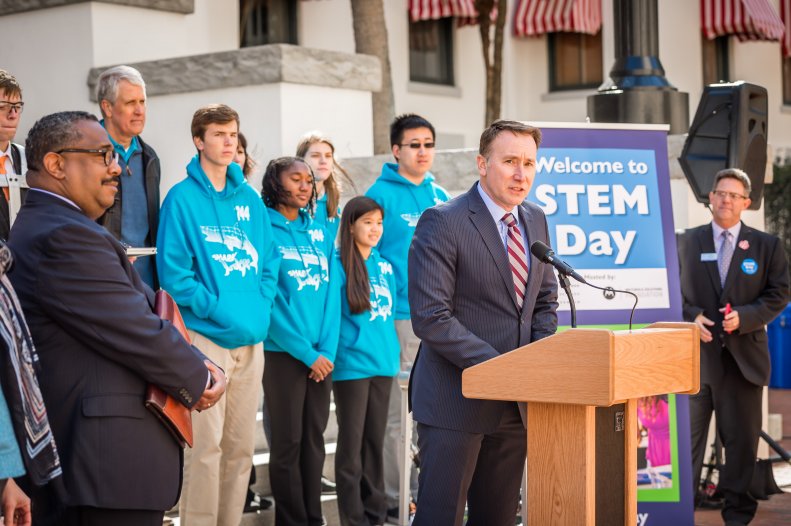 By Joel Satterly February 2018
Westminster Academy's FIRST Robotics Team 744 attended STEM Day at the Capitol in Tallahassee alongside leaders from science centers and museums across the state, including the Orlando Science Center and the Motorola Solutions Foundation.
The team worked closely with Sandra Contreras, Regional Director of FIRST South Florida, to foster awareness of the importance of STEM (Science, Technology, Engineering, and Math) education and FIRST Robotics and to lobby for increased funding for FIRST Robotics teams in Florida.
The team demonstrated their 2017 robot in the Capitol Rotunda and in the Capitol Courtyard to an audience of state senators and representatives.
"In order to grow the number of STEM professionals, we must reach beyond the traditional sources to engage and inspire our students, and it must happen much earlier than college," said JoAnn Newman, President and CEO of Orlando Science Center.
Motorola Solutions Foundation executive director Matt Blakely praised the foundation's grants: "Our Motorola Solutions Foundation Grants for FIRST Robotics and other STEM-based activities provide the foundation for today's students to become tomorrow's innovators and change-makers."
FIRST Robotics Team 744 competes at the highest level, frequently ranking with the top teams in the world. Long known in the robotics community as "the team that prays," they use their use their platform to give glory to God.