Accredited Member School
Dunnellon Christian Academy
Dunnellon Christian Academy is a private, non-profit Christian school founded in 1983 as a ministry of First Baptist Church of Dunnellon. DCA is a rural school located in western Marion county surrounded by working farm communities and local rivers.
There are 173 students—infants through eighth grade. DCA desires every student to develop their spirit-led ability to think in a Christ-like manner and to demonstrate a lifestyle that is saturated with a biblical worldview. DCA's goal is to encourage the students to be fully devoted followers of Jesus Christ. The curriculum provides a Christian education founded on the principles of Scripture.
These principles are integrated in each subject throughout every class and by all instructors. DCA has a weekly Chapel service for all students and structured Bible courses in all grade levels. In addition to core academic classes and daily physical education for all grades, DCA incorporates STEAM (Science, Technology, Engineering, Arts and Mathematic) and Fine Arts as important tools in our educational plan. Each classroom is equipped with up-to-date educational technology such as J-Touch Interactive boards; and students beginning in the 3rd grade are issued personal tablets for use in all classes. Biblically integrating technology into lessons allows our students to learn to use these tools responsibly.
Student Government and First Priority provide leadership training to our students that is based on the biblical concepts of stewardship and servant leadership and offer a wide range of opportunities for students to minister on campus or in the community. DCA offers an expanding sports program with soccer, flag football, volleyball, basketball and track for students in 4th through 8th grades. There are sports clubs for the younger grades. All programs, including fine arts and sports, are designed for students to have the opportunity to spread God's Word.
DCA has a positive working relationship with First Baptist Church Dunnellon. The Pastor, church staff and church body support the purpose, mission and vision of the Academy. Our overall goal is to never lose sight of our purpose for having our doors open; to teach every student about the saving knowledge of Jesus Christ. Students are encouraged not to just conform but to transform.
Staff & Students
School Head
Kristy Minton Wheat
Full-time Faculty & Administration
18
Part-time Faculty & Administration
1
Support Staff
10
179
28
Enrollment

Part-Day Early Childhood 3
K3-K4 25
K5 31
Grades 1-5 105
Grades 6-8 43
Enrollment totals include
these special programs:
VPK Students 19
McKay Students 1
Fla Corporate Tax Students 70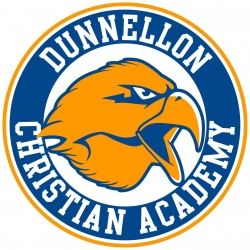 http://www.dcaeagles.com
20831 Powell Rd
Dunnellon, FL 34431
Phone: (352) 489-7716
.(JavaScript must be enabled to view this email address)