New law restores dual enrollment access for nonpublic school students
Senate Bill 52 and House Bill 1159 especially benefit economically disadvantaged students, who rely on state school choice scholarship programs to attend private schools.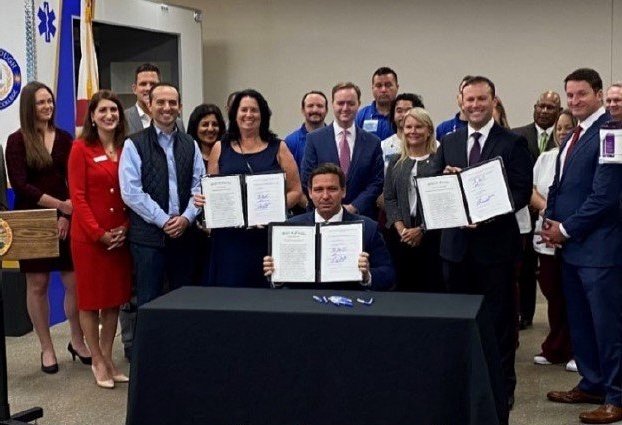 By Lisa Buie July 2021
Originally published in redefinED
Senate Bill 52 by Sen. Ray Rodrigues (R, Ft. Myers) was signed into law by Florida Gov. DeSantis last Thursday, restoring dual enrollment access for nonpublic school students. Moreover, House Bill 1159 by Rep. Demi Busatta Cabrera (R, Coral Gables) regarding access to add-on endorsements was also signed into law yesterday evening.
FAANS Legislative Director James Herzog represented FAANS at the bill signing ceremony, part of a workforce education event held at the Dale Mabry campus of Hillsborough Community College.
SB 52 sets aside $15.5 million in state money to cover the costs for homeschooled and private school students who also take courses at a partnering college or university. It fills in a funding gap where for last 8 years the state lacked a mechanism to cover the tuition and fees of dual enrollment students who did not attend public schools.
"Over the years, we have seen that dual enrollment provides a huge step in the right direction for students who go on to pursue a college or university degree," stated Sen. Kelli Stargel (R-Lakeland), chair of the Senate Committee on Appropriations. "These programs not only reduce the cost of higher education, but also the time it takes to complete a higher education degree program, which has proven to be a huge benefit for lower-income and first-generation college students."
"With a historic expansion of school choice for lower-income families signed into law earlier this year, now is certainly the time to expand the tremendous benefits of dual enrollment opportunities to students in private, home, or virtual education settings," Stargel said.
Stakeholders praised the change, saying it would restore equity to all students across the state. It especially benefits economically disadvantaged students who rely on state school choice scholarship programs to attend private schools. "Dual Enrollment has significant academic benefits for students, and this bill gives students equal access to these benefits regardless of where they attend school," said Michael Barrett, education associate for the Florida Conference of Catholic Bishops, which supported the bill throughout the 2021 legislative session.