Our school was established in 1973 as a ministry of Kendall Presbyterian Church. We welcome families of all races, national, and ethnic origins. Our small class sizes allow for close relationships between students and teachers. The security monitoring and gated campus helps our students and families feel safe and secure.
We understand the importance of meeting the needs of the individual student and KCS offers a wide variety of learning methodologies and materials. Our faculty is experienced, qualified and dedicated to help our students identify and develop his/her individual talents and strengths. We accept the responsibility of bringing the finest faculty and superior academics together to ensure that each child is given the best opportunity to develop his/her mind, character and abilities.
News
Kendall students help with hurricane relief
September 2017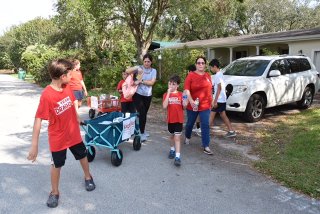 Students in our Knights of Honor program thought of an excellent idea to help those affected by hurricane Irma. They handed out flyers to our neighboring community requesting for neighbors to leave donation items at their doorstep.
The next day, they walked through the entire community with red wagons collecting all the donated items. The students also spread the word among all KCS families and collected items at school.
We are very proud of our Knights of Honor students!
Staff & Students
School Head
Alex Gispert
Full-time Faculty & Administration
42
Part-time Faculty & Administration
3
Support Staff
36
151
230
Enrollment

Part-Day Early Childhood 15
Full-Day Early Childhood 63
K3-K4 152
K5 38
Grades 1-5 113
Grades 6-8 0
Grades 9-12 0
Enrollment totals include
these special programs:
VPK Students 78
McKay Students 0
Fla Corporate Tax Students 9


http://www.kendallchristian.com
8485 SW 112 Street
Miami, FL 33156
.(JavaScript must be enabled to view this email address)
Phone: (305) 271-3723
Fax: (305) 274-0648