Tampa Bay Christian Academy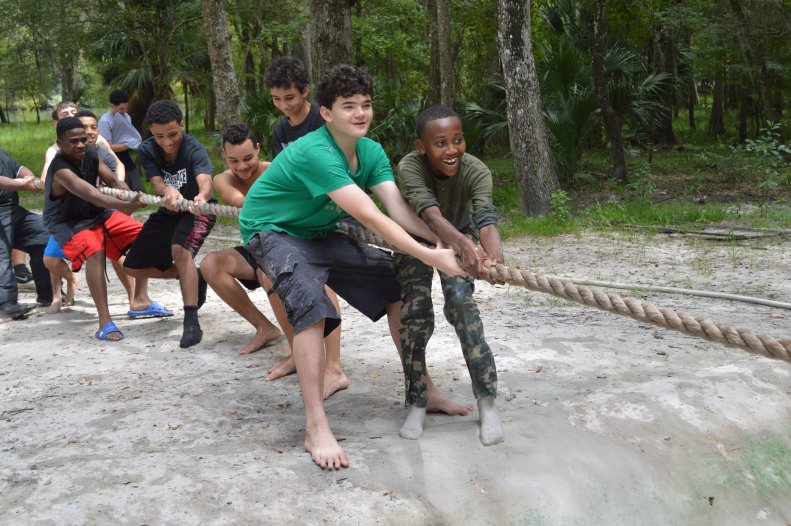 Think you can't afford a private Christian education for your student? Think again! Let us show you how you can make the right choice for your student.
TBCA serves a diverse infant through 12th grade student population. With more than 300 students, TBCA offers various educational programs for our students, from our accelerated program that enables students who need more challenges to "bump up" to a higher grade to our success program that helps those who already have challenges in one or more areas. We have a 100% graduation rate for our Upper School Senior class. We offer a wide-ranging co-curricular program that includes music, chorus, library, art, Spanish starting in pre-school, drama, cooking, sewing, FHSAA athletics, chess club, honor societies, service projects, computers and much more.
As an I-20 school we are honored to serve international students from across the world who are looking for a Christian education in the USA. We also accept Step Up For Students and McKay Scholarships and provide numerous financial aid options.
Tampa Bay Christian Academy started as Spencer Memorial Baptist School which founded in 1957 by a group of Spencer Memorial Baptist Church members who were interested in providing a Christian education for their children. The names of the church and school were changed in March 1985 to Tampa Baptist Church and Academy. The high school was started in the fall of 1986 with a 10th grade, adding a class each year until the first official senior class of thirteen students was established in the 1988-1989 school year. On June 1, 2007, the name of the school was changed to Tampa Bay Christian Academy to better communicate its mission and the diversity of its students. In May 2013, Tampa Bay Christian Academy of Florida, Inc. was incorporated with the state of Florida as an independent organization.
Mission Statement: Tampa Bay Christian Academy of Florida is educating for eternity by seeking to nurture the spirit, mind, and body of the international and culturally diverse Pre-Kindergarten through 12th grade student population through a Christ centered, developmentally appropriate and safe educational environment. Our goal is to partner with families and churches to enable students to develop and apply a biblical worldview to become servant leaders in a changing world. Vision Statement Tampa Bay Christian Academy will be regionally, nationally and internationally recognized as a pace setter for academic and moral excellence and innovative educational practices, developing well-rounded Christian leaders of godly conviction who influence their world for Jesus Christ through evangelism and discipleship. We would love to meet your family and see how TBCA can meet your educational needs. We would be happy to schedule a tour or a meeting with our Admissions Coordinator. Contact her at alopez@tbcarams.org.
Staff & Students
School Head
Matthew Peavyhouse
Full-time Faculty & Administration
38
Part-time Faculty & Administration
5
Support Staff
3
205
132
Enrollment

Part-Day Early Childhood 16
Full-Day Early Childhood 54
K3-K4 62
K5 13
Grades 1-5 71
Grades 6-8 56
Grades 9-12 65
Enrollment totals include
these special programs:
VPK Students 52
McKay Students 21
Fla Corporate Tax Students 149


http://www.tbcarams.org
6815 North Rome Avenue
Tampa, FL 33604
.(JavaScript must be enabled to view this email address)
Phone: 813 343-0600
Fax: 813 343-0601