Accredited Member School
Tampa Bay Christian Academy
Educating the mind, engaging the heart, and empowering students to change their world.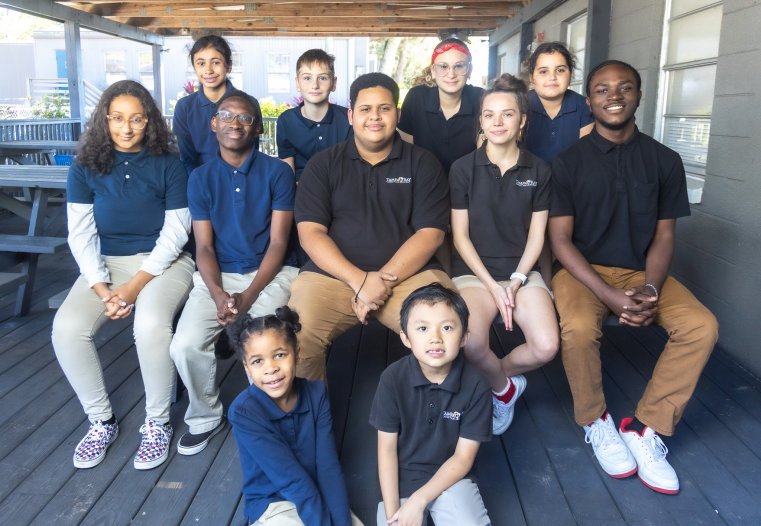 Think you can't afford a private Christian education for your student? Think again! Let us show you how you can make the right choice for your student. Tampa Bay Christian Academy serves a diverse PK2 through 12th grade student population.
History
We began as Spencer Memorial Baptist School, founded 1957 by a group of Spencer Memorial Baptist Church members interested in providing a Christian education for their children. The names of the church and school were changed in March 1985 to Tampa Baptist Church and Academy.
The high school was started in the fall of 1986 with a 10th grade, adding a class each year until the first official senior class of thirteen students was established in the 1988–1989 school year.
On June 1, 2007, the name of the school was changed to Tampa Bay Christian Academy to better communicate its mission and the diversity of its students. In May 2013, Tampa Bay Christian Academy of Florida, Inc. was incorporated with the state of Florida as an independent organization and we moved to our current location at the corner of N. Rome and Sligh in Tampa's historic Seminole Heights neighborhood.
Preschool, The Early Academy
Our Preschool is designed to give your son or daughter a joyful introduction to attending school in a safe and caring environment. We utilize the Creative Curriculum for Preschool — a comprehensive, research-based curriculum that features hands-on, project-based investigations as a pathway to learning.
We hope to inspire in children a love of learning as you help them develop confidence, creativity, and critical-thinking skills — all while promoting positive outcomes.
The K–8 Academy
We desire to encourage your child to a lifelong love of learning. We've taken the elementary school concept and added an extra step, creating a Lower School that serves students from K–8th grade. We keep our middle school students in our Lower School to strengthen their academic, character, and spiritual values, while still allowing them to join, where appropriate, with our high school in athletics, more rigorous academics, and personal mentorship from caring young adult leaders.
Our K–8 program covers all of the core subjects: English/language arts, math, science, and social studies. Students also participate in PE, the Arts, and Bible classes, while our middle school students will begin formal classes in logic to prepare them for high school. Class sizes are smaller than they would be at other schools, so your child need never worry about not receiving extra help.
High School, The Leadership Academy
The Leadership Academy exists to prepare our high school students for their "next step" in life, be it college, the military, vocational training, or a career. This preparation takes the form of character development, discipline, and the ability to take responsibility. Our leadership focus empowers students to learn to lead themselves and others. They will learn critical thinking, communication, ethical decision-making, worldview-discernment, and personal and social responsibility, all of which give them the skills to lead themselves and prepare them to take on meaningful leadership in our community.
In addition to the core subjects, our high school classes involve the Bible, the arts, foreign language, and a number of electives. We offer everything students need to take their next step in life, whether that be to gain admission to college, find a vocational skill, join the military, or simply explore their interests. These are supplemented by a number of activities and organizations including athletics, various honor societies, student government, and extracurricular clubs.
Our dual enrollment courses enable students and their parents to save money while getting a head start. These courses are held at or by USF and HCC, with some being held online and others at their respective campuses. Students earn college credit while still in high school without having to pay tuition. This means they have smaller course loads in college, leading to less stress and lower costs.
Enrollment
As an I-20 school we are honored to serve international students from across the world who are looking for a Christian education in the USA. We also accept Step Up For Students and McKay Scholarships and provide numerous financial aid options.
Campuses
Main Campus
6815 North Rome Avenue, Tampa, FL 33604
Phone: (813) 343-0600
Sligh Campus
1602 W. Sligh Avenue, Tampa, FL 33604
Staff & Students
School Head
Matthew Peavyhouse
Full-time Faculty & Administration
33
Part-time Faculty & Administration
6
Support Staff
22
317
48
Enrollment

K3-K4 48
K5 35
Grades 1-5 138
Grades 6-8 77
Grades 9-12 67
Enrollment totals include
these special programs:
VPK Students 32
Fla Corporate Tax Students 156


https://www.tbcarams.org
6815 North Rome Avenue
Tampa, FL 33604
Phone: (813) 343-0600
.(JavaScript must be enabled to view this email address)