The Christ School, located in the heart of downtown Orlando, provides an uncompromised kindergarten through 8th grade education experience. Rigorous academics and a Christ-centered education build the foundation for graduates to enter the high school program of their choice, equipped to emerge as leaders in many areas.
The Christ School students participate in daily chapel, which builds community, public speaking skills and a Biblical worldview. Teachers know their students and individual student learning plans are reviewed with students and parents regularly, helping to build confidence throughout their TCS experience.
News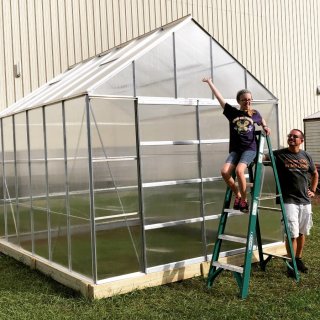 Does hydroponics work better than traditional soil gardening? Tests involving two greenhouses will help answer this question.
The Christ School utilizing 1:1 tablet program
December 2016
The Christ School in Orlando is among the growing ranks of CSF schools utilizing a 1:1 computer or tablet program. Middle school students each receive a Chromebook for school and home use.
Many curricular resources are accessed, including Google Docs, which allows them to collaborate in real time during the school day and at home, and to share both questions and finished work with their teachers.
The school reports that the program allows teachers and students to interact much more than via traditional paper documents.
Staff & Students
School Head
Aaron Farrant
School Head
Jason William Powell
Full-time Faculty & Administration
37
Support Staff
15
345
0
Enrollment

Part-Day Early Childhood 0
Full-Day Early Childhood 0
K3-K4 0
K5 37
Grades 1-5 197
Grades 6-8 111
Grades 9-12 0
Enrollment totals include
these special programs:
VPK Students 0
McKay Students 0
Fla Corporate Tax Students 0
School's Job Opportunities
Posted November 19th, 2016
Program Coordinator for REACH (Before & After School) and Summer in the City (SITC)
Program Coordinator for REACH plans and implements developmentally-appropriate Before & After School activities and events that align with the REACH mission – Recreation, Enrichment, Academics, Character and Health – and address the social, emotional, physical and spiritual needs of the students.
Program Coordinator for SITC develops the scope and themes of the program that include enrichment, academic and athletic offerings; develops schedule for each week of camp. Ensures high quality, unique and popular course offerings.
This is a 12-month, full time position.
Requirements
Bachelor's Degree
Education experience and/or experience with after school, summer camp, extra-curricular activities preferred
Effective management, organization, and communication skills
The ideal candidate for this position is a visionary who has a passion to grow and enhance the programs.
For more information contact Theresa Opsahl at .(JavaScript must be enabled to view this email address)

http://thechristschool.org/
106 East Church Street
Orlando, FL 32801
.(JavaScript must be enabled to view this email address)
Phone: (407) 849-1665
Fax: (407) 481-2325