Westminster Academy basketball achieves championship three-peat
Defeating Seffner Christian, WA's Men's Varsity Basketball Team won an historic third consecutive FHSAA Class 4A Basketball State Championship.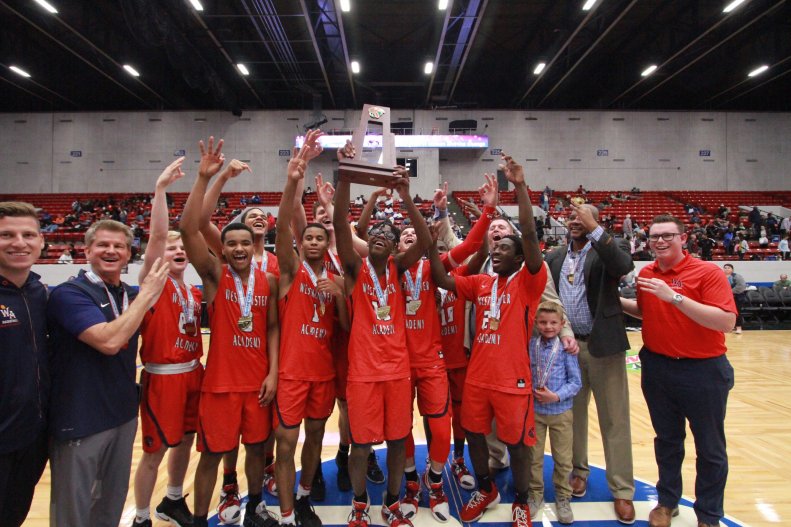 By Joel Satterly March 2019
For the first time in Westminster Academy's history, a team sport has won three straight state championships; on March 7th, 2019, the Men's Varsity Basketball Team won 77–73 against Seffner Christian in Lakeland, Florida. The victory was the third consecutive FHSAA Class 4A Basketball State Championship for the team. It is also noteworthy that this has only occurred one other time in the sport of men's basketball by a Broward County school.
A large contingent of students and fans made the trip to Lakeland to support Coach Ehren Wallhoff and the team. Back at school, students could view the game at an all-school "watch party" in the Kennedy Fellowship Hall.
It was fitting that the Lions were led yesterday by seniors Sam Griffin and Chase Johnston; Sam tallied 24 points to lead the team while Chase totaled 19. Freshman Ben Middlebrooks contributed 18 points on perfect 8 for 8 shooting.
The Lions finished with an amazing 25-4 record after a rigorous regular season schedule. The season also included extraordinary accomplishments, such as Chase Johnston surpassing the national record for total three-pointers made in a career and Sam Griffin breaking the 1,000 point mark for his career.
Coach Wallhoff's program has indeed reached "dynasty" status! Congratulations to the players and coaches on the three-peat.