Redeemer's Robert Ayton wins chemistry teaching award
Robert Ayton, Jr., Chemistry and Physics instructor at Redeemer Christian School, has won the Excellence in Chemistry High School teaching award.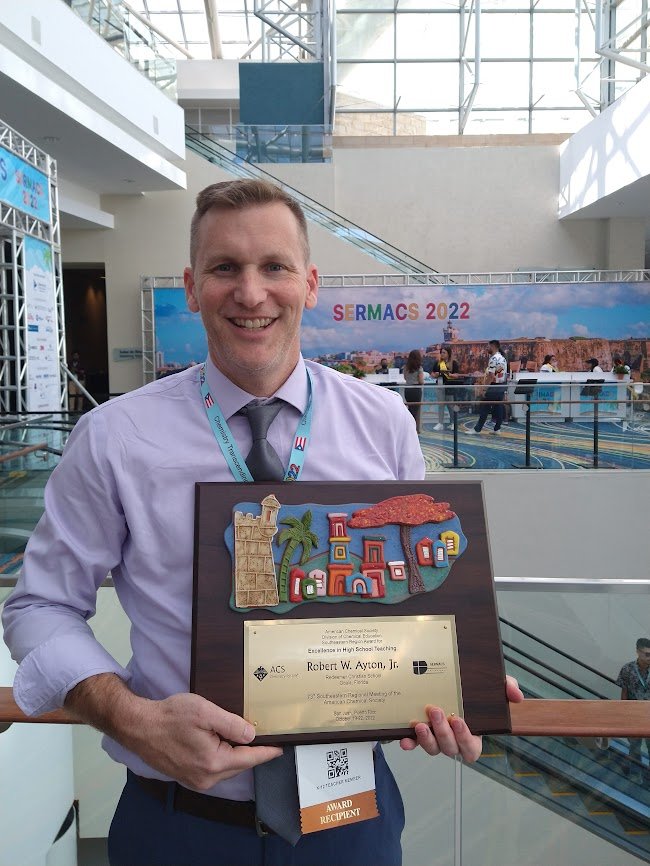 By Luke Butler November 2022
At the October 2022 ACS Southeastern Regional Conference held in San Juan, Puerto Rico, Mr. Robert W. Ayton Jr. was named the American Chemical Society Southeastern United States Region awardee for Excellence in Chemistry High School Teaching. There are only 7 regions in the United States and he will represent the southeastern region for the American Chemical Society. He will also be nominated for the 2023 National American Chemical Society James Bryant Conant Award — the most prestigious award a chemistry teacher can receive in the United States.
In his 19th year of teaching, Mr. Ayton has been at Redeemer Christian School in Ocala, FL for the past 9 years, teaching AP Chemistry, AP Physics C, and AP Calculus AB. He was previously named the state of Florida's Chemistry Teacher of the Year by the American Chemical Society in 2014, the state of Florida's High School Science Teacher of the Year by the Florida Association of Science Teachers in 2017, and was a two-time Golden Apple Award winner for Marion County Public Schools.
Robert manages a website, mrayton.com, that serves hundreds of teachers and students each year in their content knowledge and understanding of science and mathematics. Prior to teaching, he was an analytical chemist and laboratory manager for 7 years at PMRS, Inc., a pharmaceutical company in Philadelphia, PA.